Relics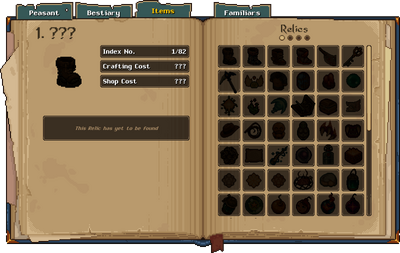 Relics are special items in UnderMine. They are key in progressing far in the UnderMine, and have various abilities that can completely change the perception of the game and how the game is played.
As of 1.0.0 and above, UnderMine has 154 relics. Not all relics are available to the peasant at the start of the game and have to be crafted by Wayland using schematics.
Each relic has its own crafting cost ranging from 0-99

Thorium. Once a relic is crafted it will permanently stay in the UnderMine for future use. If two relics are crafted at the blacksmith, only the first crafted relic can be taken on the run. The second relic crafted will be taken by a pilfer, but will still permanently show up in the UnderMine.
See also Combined Relics, Alphabetical Relic List, and Relics by Rarity.
Achievements
Artisan I
Crafted a new relic
Artisan II
Crafted 10 new relics
Artisan III
Crafted 20 new relics
Artisan IV
Crafted 30 new relics